Samon-kun wa Summoner is a manga series written and illustrated by Shun Numa. Its run started on September 21, 2015, in Weekly Shōnen Jump (#43), and ended on June 5, 2017 in issue #27.
Sakura Teshigawara is a high school girl who is considered to be a "buddha" by anyone who meets her. One day, a new student, Shousuke Samon, joins her class, and claims to summon demons as a hobby. Worried about Samon, Teshigawara approaches him, and he comes to notice her "good girl" reputation. Samon takes her to the school rooftop, where he reveals two things: He hates good people like Teshigawara, and that he can actually summon demons!
Using his abilities to tease her, Samon gets Teshi and her friends involved in a world of demons, comedy, action, and drama, to turn the angelic Teshigawara into a horrible person, stirring trouble for humans and demons alike along the way.
English Versions
Edit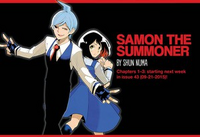 As part of its "Jump Start" initiative, Viz Media is publishing the first three chapters of Samon-kun wa Summoner in the English version of Shonen Jump.[1]
References
Edit